Products
Add: East Port Industrial Zone lesions,Haimen, Jiangsu Province,China
Tel: +86-513-82896666 / 82896066
Fax: +86-513-82896066
E-mail: carbon@worldbrandcorp.com
Contact Person: Mr jiang

Electric Motor Carbon Brush
Electric motor carbon brush the role of the electric motor is to change the current direction. AC motor is to change the conductivity of the rotor coil, thereby changing the rotor pole, thereby changing the motor movement. Carbon brushes for the motor commutator or slip ring, as the export and import current sliding contact body, its electrical conductivity, thermal conductivity and good lubrication, and mechanical strength and a certain instinct for sexual sparks. Almost all of the motors are using carbon brush, it is an important component of motor parts. As many electric shavers, kitchen appliances, electric bicycle has carbon brushes, that is, DC motors (not including brushless) to be installed on the same brush.
Function of Electric Motor Carbon Brush
1. Will be added to the external current through the brush while rotating rotor (input current)
2. The major axis of the electrostatic charge through the brush into the earth. (Ground Brush, Output Current)
3. Change the current direction (in the commutator motor, the brush also plays for the role)
Object by the use of the motor brushes can be divided into: turbo power brush, rolling electrical power brush, power brush traction motor, AC electrical power brush, aircraft electrical power brush.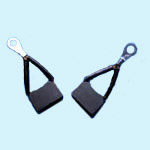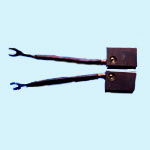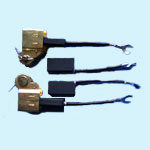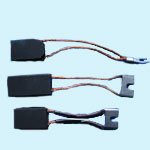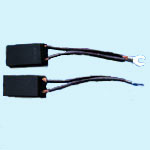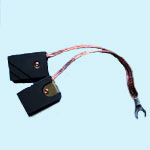 Our company is a China-based electric motor carbon brush manufacturer and supplier with more than 30 years of production experience, which enables us to become the leader in the Chinese market. There are more than 1000 kinds of carbon brush for the customers to choose from. Our company has passed the certification of ISO9001:2000 international quality system. Due to these advantages, our products are well received by our customers from all over the world such as countries in Europe, Middle East, South America, South East and more. We are striving to develop new electric motor carbon brush to meet the increasing requirements of our customers. High quality products and competitive prices are the key factor to our expanding market. In addition, we can manufacture according to the customers' requirement and OEM service is also available.
Related products
Power Tool Carbon Brush
1. The Power Tool Carbon Brush we provide can be installed onto power tools working under the voltage of 110V, 120V, and 240V.
2. Power Tool Carbon Brush ...

Automobile Carbon Brush
1. From the intuitive point of view, automobile carbon brush (motorcycle carbon brush) should have a proper chamfer, appropriate specifications, standard structures, sections ...