Products
Add: East Port Industrial Zone lesions,Haimen, Jiangsu Province,China
Tel: +86-513-82896666 / 82896066
Fax: +86-513-82896066
E-mail: carbon@worldbrandcorp.com
Contact Person: Mr jiang

Power Tool Carbon Brush
1. The Power Tool Carbon Brush we provide can be installed onto power tools working under the voltage of 110V, 120V, and 240V.
2. Power Tool Carbon Brush can be used on cutter, mixer, pruners, mower, kitchen electrical with small power and DC power tools under 24V, and vacuum cleaner, washing machine motors under 600W, etc.
Notes for installation :
1. It is forbidden to install the carbon brushes with different brands and materials on the same product.
2. Notice especially whether the spring presses well during the installation and whether it's prevents the function of carbon brush.
3. Notice whether copper bolts are stable and whether the way of their fixation affects the use of carbon brush.
No oil can be stained on the carbon brush or the friction surface of the rotating parts.
The running of Power Tool Carbon Brush:
The contact bhttpeen the friction surface of Power tool carbon brush and that of the rotating parts should be complete so that the electric currents will be transmitted evenly. Without the running, sparks will be produced when the motor is in operation. The methods of running are as follows: Natural running: after the installation of Power tool carbon brush is finished, switch on the motor under no-load operation to enable a natural running (about 0.5-3 hours according to the size).
Artificial running: use the sandpaper for running without power.
Tool running: use the millstone or other maintenance tools under the no-load conditions. Professional personnel are needed.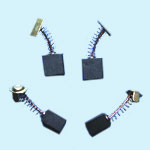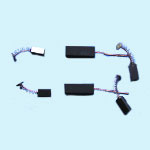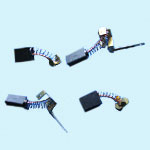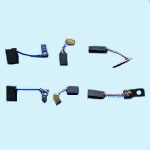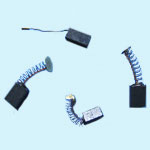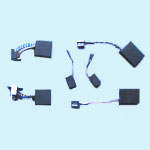 Related products
Electric Motor Carbon Brush
Electric motor carbon brush the role of the electric motor is to change the current direction. AC motor is to change the conductivity of the rotor coil, thereby changing the rotor pole, ...

Automobile Carbon Brush
1. From the intuitive point of view, automobile carbon brush (motorcycle carbon brush) should have a proper chamfer, appropriate specifications, standard structures, sections ...